Medical Hypnotherapy
"Heron Saline is absolutely amazing at what he does. I had a very basic understanding of what hypnotherapy was before I met Heron. Heron showed me that I could proactively participate in my own self-evolution by learning the inroads of my mind. Heron is an outstanding hypnotherapist as the discipline is defined, but he stands out due to his finely tuned insight, intuition and creativity.

Under Heron's guidance, I have experienced growth in the areas of sports performance hypnotherapy, mental / emotional re-patterning, stress management, nonviolent communication and understanding of my thinking patterns. I have achieved more positive and timely results in a few hypnotherapy sessions than I did in 5 years of talk therapy."
— Carey R. / San Francisco, CA (12/17/2009)
# ~ # ~ #
"It is difficult to be objective as I am such a fan of this wonderful and talented man.

I have worked with Heron on personal and professional issues with terrific impact. Heron's work is 'Humane' and pragmatic.

Before meeting Heron I had great doubts about hypnotherapy. Yet, the moment I sat with him for a preliminary meeting I knew I would be working with him.

His expertise in surrounding areas of study and practice are laudable, his personal understanding of the 'human condition' is fascinating - his ability to put that into practice for myself and the MANY other people I've referred to him is (to steal a phrase)... priceless.

Heron has my undying admiration and respect as a person and as a professional."
— Cody F. / San Francisco, CA (12/30/2009)
# ~ # ~ #
"Heron is a consumate professional. He is knowledgable, caring, congruent, honorable and skilled. His background in teaching adds to the effectiveness of his hypnotic sessions. He works with integrity, consideration and frames the sessions to your beingness."
— Bonnie C. / San Francisco, CA (1/8/2010)
# ~ # ~ #
"Working with Heron over the past few years has been a uniquely deep and powerful experience.

His skill at drawing out the many possibilities for a session, making you (the client) very comfortable, and then offering his well developed technical and intuitive presence during the hypnosis have helped me move around several very icky corners.

In a recent session, Heron invited my deepest self to teach my hands what to do with a certain obstacle, and I found myself moving in a way which unbound my energy which I could not have figured out without his guidance. I have repeated the process during the past several weeks to great effect, feeling energized and able to meet frustration with a technique which was brought out by the work.

I recommend Heron completely for meeting any challenges which you do not know how to meet on your own."
— Ian W. / San Francisco, CA (1/13/2010)
# ~ # ~ #
"After attending one of Heron's classes, I took the risk of setting up a private session with him. It was obvious that he understood some things about how my mind worked that I didn't.

I've worked with therapists, but they focus on why this and why that. I didn't feel a need to talk about what wasn't working. I just wanted to change it. And a session with Heron worked! Yay!

Heron was comfortable to work with, and he really knows his stuff. His techniques get past the mind talk without feeling pushy or intrusive. Afterwards, I felt a big internal shift and I also felt affirmed as I was both before and after the shift occurred. That has helped me keep the change by eliminating anxiety about it.

I recommend working with Heron if you want to easily, safely and comfortably re-arrange some internal wiring. And by the way, it has none of the hypnosis creepiness that they depict in TV shows and movies."
— Margaret W. / Houston, TX (4/30/2010)
# ~ # ~ #
"Highly recommended.

Heron is very understanding and respectful. He explains the process of Hypnosis thoroughly and answers any questions you may have."
— Sharon S. / San Francisco, CA (2/22/2011)
# ~ # ~ #
"I'll admit, I'm a skeptical transplanted New Yorker [city].

I am in the health care field, medical, counseling, blah blah, blah so my bullcrap sensors were dialed up pretty high when it came to my virgin foray into the world of hypnotherapy. And I was pleasantly surprised. This is a professional who answered my questions, explained what his role would and would not be and what hypnosis is and is not, in a very gentle and informative manner.

At this moment, I am still seeing him professionally and would recommend him to anyone who is looking for insight into behaviors and some possible ways to change them."
— Lily L. / San Francisco, CA (8/9/2010)
# ~ # ~ #
"I recently did five sessions with Heron beginnng with some behavior changes I wanted to make -- eating less, healthier life, that kind of thing. Wow. I've found myself changing my choices for the better without the usual feeling of deprivation or "geez I really need to push myself to talk a walk." Not that there is no effort involved -- it's just been more enjoyable and easier to motivate myelf. We even stumbled on to some really early childhood "programs" that have been running in the background of my consciousness and I want to look at them closer with my therapist. Very helpful. I'm going to do more sessions in the fall with Heron."
— Barb H. / Mill Valley, CA (6/16/2012)
# ~ # ~ #
"Heron is well informed and educated in his field. His sessions are custom tailored to one's personality and learning proclivities. A very experienced and intuitive teacher. Gentle, experienced, and helpful, in he that gives one tools that carries one beyond his sessions.

The best experience with hypnotherapy I have ever had. With great results."
— Jack B. / San Francisco, CA (6/20/2012)
# ~ # ~ #
"I worked with Heron on bringing down the emotional intensity of many of my issues. This allowed me to disengage from the emotional impact and hook, to tackle them successfully and progress with my emotional growth. It also took the power out of them, reducing my stress and panic. This was absolutely crucial for my healing after being diagnosed with breast cancer.

Heron was great! He really helped me to get to the core of my issues, whether they were old, entrenched patterns of emotional reaction or something that came up earlier that same day.
He was sensitive about the subject matter. Even though he was going for the heart of an issue, he chose words and phrases that worked for me and that lead to calm and progress. He struck the right balance between personal and professional to helped me open up.

Through our work, I became much more aware of the subtleties of my issues and of the triggers. This has helped me immensely and made it possible to recognize and change patterns, long after our original work de-intensified them.

Heron is the soul of discretion. I was originally referred to him by my mother. When she asked if we were still working together, he sent her to me... I was pleased to know that he wouldn't even tell her this. I am secure in the knowledge that what passed between us stays between us.

He was also flexible and worked with my schedule and time requirements. We were meeting on skype with a nine hour time difference. This kind of work isn't available here and this allowed to take advantage of Heron's expertise. It was surprisingly effective and convenient.

I am really glad I got the chance to work with Heron and I definitely recommend him!"
— Bri H. / Sausalito, CA (12/12/2009)
# ~ # ~ #
"I've had numerous sessions with this gifted and resourced healer and facilitator. I have always come away all the better for our work together. He is very thorough, kind, giving, and has a very sharp intuition. I have recommended his work time and again to people in my life."
— White Ash / Minneapolis, MN (5/9/2011)
# ~ # ~ #
"When it was time for my kidney stone to pass, my thoughts went to the idea planted during the hypno session with Heron: the flow of the Temperance River where it runs into Lake Superior. Still today the same hypno session helps me unstick negative thoughts — and let them pass on down the river!"
# ~ # ~ #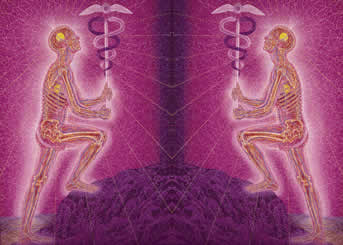 "Heron brings his experience as an energy worker and his wise and insightful understanding of the mind-body-spirit connection to his work as a medical hypnotherapist. He is especially gifted at sharing his "no limits" perspective with others to bring about healing."
# ~ # ~ #
"In preparation for sinus/septum surgery Heron provided me two hypnotherapy sessions focusing on issues we had identified in the intake interview: breathwork, blood loss, pain management, viewing anesthesia as a pleasant journey, and retaining that element of personal control I felt I needed throughout the surgical process. The successful results amazed my surgeon, the anesthesiologist, and me! Before and during the surgery I was calm, breathed with ease, and my vitals remained textbook perfect. My blood loss was limited to that which my body required and I had no post-op bruising; I experienced no post-op pain to speak of; I truly felt I had retained sufficient personal control throughout; and, I had no difficulty coming out of anesthesia and viewed the experience as a not unpleasant self-improving journey. This was my first experience with hypnotherapy, I found Heron comforting, gentle, encouraging, trustworthy and so intuitive. I will never consider a similar procedure without doing hypnotherapy — and I hope whenever that occurs I can work with Heron."