Animal Communication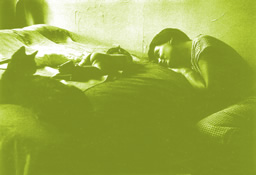 I have practiced non-verbal communication with animals and people for over 35 years and have become quite "fluent", so to speak, in many of its forms: eye contact being made or averted, distance, posture, breath, natural and welcome forms of touch, lots of ways of expressing intention, energy, who we are and what we are about. Animals have personal experiences of their day to day life just like you and I do.
But of course animals usually think in the forms of pictures, feelings, objects, and action rather than in words. Through training and lots of fun, fascinating practice, I am able to project and receive cognitive thought with them. My experiences are with both domestic pets and wild animals. Many of the issues that come up are related to health and medical conditions, specific situations in the animal's life, relationships, introducing upcoming changes, and resolving past trauma, understanding life purpose or tapping into individual or species' wisdom.
For a better understanding of what this kind of inter-species conversation can be like, click here to read a two-page example: "The Other Giraffes"
Pricing by personal arrangement
Would you like to attend my workshops at reduced rates? How about for free?
Interested in arranging a workshop for your small group?
We can work out an exchange or reduced rate for your organizing and promoting the event of your choice. Just register 8 – 20 attendees, secure a suitable space (such as someone's large living room or a public meeting space) and handle registration at the event. Contact me for specific details.
This tends to be a great win-win situation for everyone!!